Playpen Safety
Playpens, also called play yards, can be so convenient. You can safely keep baby near you anywhere in the house or while out visiting a friend. Babies tend to feel very safe in them and often nap well in their playpen. Avoid leaving your baby unattended in his safety play zone.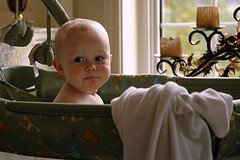 In terms of safety, you will want to get a play yard that has mesh sides for better airflow and you will want the mesh to be less than 1/4" in size, or smaller than the tiny buttons on baby's clothes. Also make sure that there are no tears, holes or loose threads that could entangle baby. Make sure that the mesh is securely attached to both the top rail and the floor plate.
Follow guidelines for crib safety in terms of toys and bedding. All the same rules apply to play yards.
Before using a second-hand play yard, check with the
Consumer Product Safety Commission and make sure it hasn't been recalled.
Baby Bedding Safety Baby Bumper Safety Baby Crib Mattress Safety Baby Crib Safety Baby Mattress Pad Safety Tips for Getting Baby to Sleep at Night Changing Table Safety Co-Sleeper Safety Baby Safety Resources - Home Page