Baby Bedding Safety
When you visit the baby store, you will see dozens of adorable baby bedding sets. This is one area you can save a lot of money. Though many parents dream of creating an adorable nursery for baby, most of the pieces in these sets are unnecessary and some are downright dangerous.
Rather than layers of bedding, it is recommended by the American Academy of Pediatricians that you use only a snugly fitted bottom sheet in the crib. If you dress your baby in a cozy body suit or one-piece sleeper, baby should be plenty warm for rest.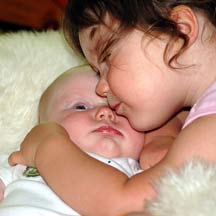 Crib accessories such as cushions, quilts, pillows and comforters should never be in the baby's crib. Each year there are almost 2,000 cases of suffocation related to these items. Limit items in the crib to small, age-appropriate toys and a pacifier.
If you're worried about baby being cold, using a lightweight cotton blanket poses the least risk. Tuck the blanket under the end of the mattress and only cover baby to his chest. Make sure your baby's head remains uncovered during sleep. You'll find that baby will usually kick off a blanket anyway, so why take the risk of having it there.
Get Great Ideas on Designing the Perfect Nursery for Your Little One
Baby Bumper Safety
Baby Crib Mattress Safety
Baby Crib Safety
Baby Mattress Pad Safety
Tips for Getting Baby to Sleep at Night
Changing Table Safety
Co-Sleeper Safety
Playpen Safety
Baby Safety Products
Baby Safety Resources - Home Page