Guide to Mattress Pads and Mattress Topper Safety
Mattress pads are a good idea. They can protect your mattress if your baby spits up or diaper leaks. We recommend organic mattress pads for the same reason we recommend organic crib mattresses. Babyies do not need to be inhaling chemicals when they sleep. For safety, it's best if they are placed between the mattress and a snugly fitted sheet.
Looking for a Hypoallergenic Waterproof Mattress Pad
?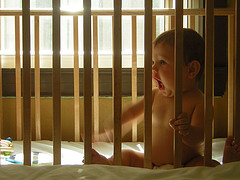 For people who cannot afford an organic mattress, an organic mattress topper is a good solution. It will provide an organic barrier between baby and the conventional mattress. Mattress toppers can also offer a softer pillow top feel to an organic mattress.
For additional information see the following:
Baby Bedding Safety Baby Bumper Safety Baby Crib Mattress Safety Baby Crib Safety Tips for Getting Baby to Sleep at Night Changing Table Safety Co-Sleeper Safety Playpen Safety Baby Safety Products Baby Safety Resources - Home Page