Changing Table Safety
Like many things, when used properly a changing table can be wonderful. They are a back saver for parents. There are some inherent risks in them but with good safety practices, they can be overcome.
The #1 most important rule for safety when changing your child's diaper on a raised surface is to never leave your child unattended. Never. We also recommend you always keep at least one hand on your baby when she's on it.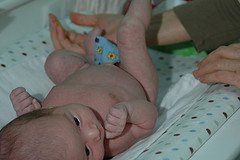 Choose a table or pad that has safety straps. Use them every time when changing baby.
Sturdiness is essential. Be sure to check the nuts and bolts regularly to make sure they are tight and secure. A guardrail around the table that is at least 2 inches high is key. If you have a foam pad, select a model with contoured sides rather than a flat pad.
Having all supplies to change baby on hand nearby will help you change baby safely. If you've got wipes, a new diaper and any creams you might want within arm's reach, you will be better prepared to keep baby safe.
An alternative to the changing table is to change baby on the floor with a waterproof pad. Since the biggest risk is falling, if you change her diaper on the floor, you can avoid this danger completely.
For additional information see the following:
Baby Bedding Safety Baby Bumper Safety Baby Crib Mattress Safety Baby Crib Safety Baby Mattress Pad Safety Tips for Getting Your Baby to Sleep at Night Co-Sleeper Safety Playpen Safety Baby Safety Products Baby Safety Resources - Home Page