Grand World Recalls "Bobby Chupete" Pacifiers Due to Choking Hazard
RELEASED: November 18, 2009
CPSC Release # 10-040
The U.S. Consumer Product Safety Commission, in cooperation with the firm named below, today announced a voluntary recall of the following consumer product. Consumers should stop using recalled products immediately unless otherwise instructed.
Name of Product: "Bobby Chupete" Pacifiers
Units: About 641,000
Importer: Grand World Inc., of Maspeth, N.Y.
Hazard: The pacifiers fail to meet federal safety standards. The pacifier mouth guard is too small, posing a choking hazard to infants and toddlers.
Incidents/Injuries: None reported.
Description: This recall involves "Bobby Chupete" pacifiers. The pacifiers have a ring-shaped handle and heart-shaped mouth guard with two ventilation holes. The nipple is made of latex. "Bobby Chupete" and a picture of an infant are printed on the pacifier's packaging. The pacifier was sold in aqua, red, white or yellow colors.
Sold at: Various retail stores nationwide from November 2004 through July 2009 for about $1.
Manufactured in: China
Remedy: Consumer should immediately take the recalled pacifiers away from infants and toddlers and contact Grand World for a refund or a replacement pacifier.
Consumer Contact: For additional information, call Grand World collect at (718) 326-7786 between 9 a.m. and 5 p.m. ET Monday through Friday or visit the firm's Web site at www.grandworldinc.com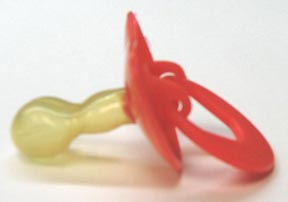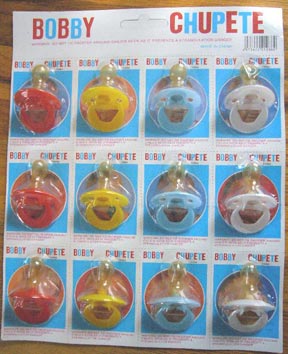 ---
CPSC is still interested in receiving incident or injury reports that are either directly related to this product recall or involve a different hazard with the same product. Please tell us about it by visiting https://www.cpsc.gov/cgibin/incident.aspx
The U.S. Consumer Product Safety Commission is charged with protecting the public from unreasonable risks of serious injury or death from thousands of types of consumer products under the agency's jurisdiction. The CPSC is committed to protecting consumers and families from products that pose a fire, electrical, chemical, or mechanical hazard. The CPSC's work to ensure the safety of consumer products - such as toys, cribs, power tools, cigarette lighters, and household chemicals - contributed significantly to the decline in the rate of deaths and injuries associated with consumer products over the past 30 years.
Firm's Recall Hotline: (718) 326-7786 collect
CPSC Recall Hotline: (800) 638-2772
CPSC Media Contact: (301) 504-7908