Asthma in Babies and Children
Asthma in babies and children is more common than you might think. It's a chronic disease that causes the airways - the tubes that carry air in and out of your lungs - to become sore and swollen. In the United States, almost 9 million children have asthma and it is the leading serious chronic illness of children in the U.S. Children have smaller airways than adults making asthma especially serious for them. Symptoms in children include wheezing, coughing, chest tightness and trouble breathing, especially early in the morning or at night.
Many things can cause asthma, including
> Allergens - mold, pollen, animals
> Irritants - cigarette smoke, air pollution
> Weather - cold air, changes in weather
> Exercise & running
> Infections - flu, common cold
Over 50 percent of asthma cases in the U.S. can be attributed to allergies. Thirty percent of those are associated with cat allergies.
Asthma cannot be cured, but it can almost always be controlled. You will want to work closely with your baby's doctor to develop a plan to deal with this chronic problem. Controlling asthma in babies begins by determining which factors trigger an attack in your child. Each child is unique and reacts differently. For example, some babies only have an asthma attack when they have a cold, while others have an attack when petting a cat.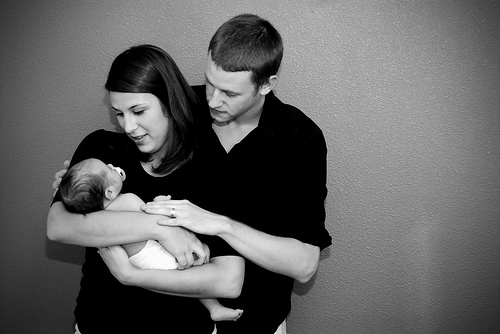 The most common treatment is a quick-acting prescription medication such as albuteral that is used to stop an asthma attack. It works by relieving the spasms in the airway allowing baby to breathe easier. It may be administered using a nebulizer, an machine that turns liquid medicine into a mist that your baby can breathe into his lungs through a mask.
For home use, an MDI (metered dosage inhaler) or aerochamber may be used. An aerochamber is a long tube with a holding chamber and a small mask. Albuterol can be sprayed into the holding chamber and then inhaled by your baby as she breathes through the mask. For longer acting treatment, your doctor may prescribe a daily dose of a steroidal controller drug.
Preventing Asthma in Babies
Nothing can be done to prevent asthma if it's in your baby's genetic makeup, however, you can minimize the symptoms or delay the onset of asthma by taking the following steps.
> Limit his exposure to dust mites by encase your baby's mattress in an impermeable cover, removing carpeting and plush toys from his room, using blinds instead of heavy fabric drapes, and washing her bedding once a week in hot water.
> Keep your baby away from secondhand smoke which irritates the lungs.
> Limit his exposure to air pollution. Air pollutants such as ozone can irritate the lungs and cause breathing problems in people with sensitive respiratory tracts. Check your local newspaper or radio for reports on the Air Quality Index, and consider keeping your baby indoors on days when the air quality is poor.
> Avoid using a fireplace or wood stove. The smoke may irritate your child's respiratory system.
> If your child has developed an allergy to your family pet, keep the pet outside if you possibly can.
> Reduce mold in your home. Repair leaks, which can cause mold growth behind walls and under floors, and clean moldy surfaces using soap and water. Make sure damp or wet clothing or surfaces are dried as soon as possible to prevent mold growth.
> Install exhaust fans or open the window in the kitchen when cooking and the bathroom when showering, for example.
> Use an air conditioner or dehumidifier, if necessary, to keep the humidity level between 35 and 50 percent.
> On hot days, use the air conditioner rather than keeping the windows open.
Preventing asthma in babies may not be possible, but if you can delay it by following these simple tips, it is well worth it.
Asthma and Childcare
You'll want to make sure that any sitters or daycare providers responsible for your baby's care are familiar with his condition and know how to treat an asthma attack.
Find out the answers to the following questions before enrolling your child:
> Is the environment smoke free at all times?
> Is there good ventilation?
> Are allergens and irritants that can make asthma worse reduced or eliminated? Look for pets, mold, dust mites and strong odors.
> Are cots or mats provided for nap time and carpeted areas minimized to reduce exposure to irritants?
> Is the childcare worker willing to administer medicines as recommended by the child's physician? Some people do not want this responsibility. If they are willing, make sure you train them the right way to give it to baby.
> Provide a written emergency plan in case your child has an asthma attack while in childcare and make sure the caregivers know how to carry out these plans. Also, provide the doctor's phone number, insurance information and details on the closest medical centers.
Baby Safety Resources - Home Page