Infant Car Seat Replacement Cover
When there's a need for an infant car seat replacement cover, you have many choices. Almost all manufacturers offer replacement covers for sale through their websites. The benefit is that you can be certain that the covers is a good match for your car seat since it's directly from the manufacturer. However, there are typically a very limited choice of colors and patterns, particularly for replacements.



Another option to consider is selecting one of the many after-market car seat covers. There are a large number of manufacturers offering stylish and practical car seat covers to replace your original cover. Many of these covers are specified to work with a particular car seat – usually some of the top selling car seats on the market. This can be helpful because you know that they have tested it on that car seat and, as long as you install it correctly, the cover will work fine.


Some of the best deals to be had are from so called "generic" brands. These are companies that put less money into marketing and creating a name for themselves, but can offer high quality products. While you can find a great value, it may take more than one try to find the perfect cover for your car seat. You may need to purchase it and see how it fits on your seat, return it if it's not quite right and select another.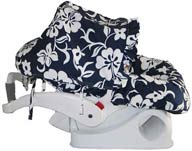 A few key areas to look for in fit include:
1. Make sure the straps are not restricted in any way.

2. Cover should fit snugly over seat and not slip off.

3. Does not interfere with any of the locking mechanism for attaching the seat to the base.

Keeping these ideas in mind, you have a wealth of opportunities to freshen up your baby's ride with an infant car seat replacement cover.



Return to Home Page from Infant Car Seat Replacement Cover